As the song goes, "I'm dreaming of a white Christmas, and those soft gingerbread cookies". Well, ok, not exactly, but nevertheless gingerbread cookies are such an epitome of Christmas treats and festive mood.
The whole house smells so delicious from the moment you begin mixing the dough to the first tray pulled out of the oven. This richly spiced cookie, teemed with ginger, cloves, and cinnamon are not just yummy but also an enthralling project for your family since as soon as cookies cool down you can start decorating them.
This week we've been experimenting with various recipes in attempt to find the perfect one to make sure the ingredients needed are available in Ukrainian stores.
So here is the recipe from America House staff.
Please let us know if it worked for you and share photos of your cookies on FB or Instagram tagging America House or using #amhousekyiv.
Dough Ingredients
170 gr butter, softened
1 cup sugar (can be brown sugar)
1 large egg
85 gr honey or maple syrup
2 cups all-purpose flour (you might need more, depending on the quality of your flour)
1 teaspoon baking soda or baking powder
2 teaspoons ground ginger
3/4 teaspoon ground cinnamon
1/2 teaspoon ground cloves
½ teaspoon ground nutmeg
1/4 teaspoon salt
additional sugar
Icing
1 tsp. fresh lemon juice
1 cups confectioners' sugar
4-5 tablespoons of water
1 egg white, lightly beaten
Food coloring
DIRECTIONS
In a large bowl, mix butter and sugar until light and fluffy. Beat in egg and honey. Combine the flour, ginger, baking soda, cinnamon, cloves, nutmeg and salt; gradually add to the creamed mixture and mix well.
Divide dough in half. Shape each into a disk; wrap in plastic. Refrigerate for about 30 minutes -1 hour.
Heat oven to 180°C. Unwrap 1 disk of dough and place on a floured work surface. Using a rolling pin, roll dough to a 0.5 cm thickness. Cut out cookies using the cookie cutters of your choice. The snowflake we used was actually 3D printed at America House, you can come and print one as well for free. Here you can learn how to book 3D printer at America House. Or you can improvise and create paper templates like we did (see photo below) and place cookies 5 cm apart on parchment paper–lined baking sheets. Repeat with remaining dough, rerolling scraps. Bake cookies, 1 sheet at a time, until browned and set, about 8-12 minutes (depending how soft you would like them to be). Transfer cookies to a wire rack and let cool.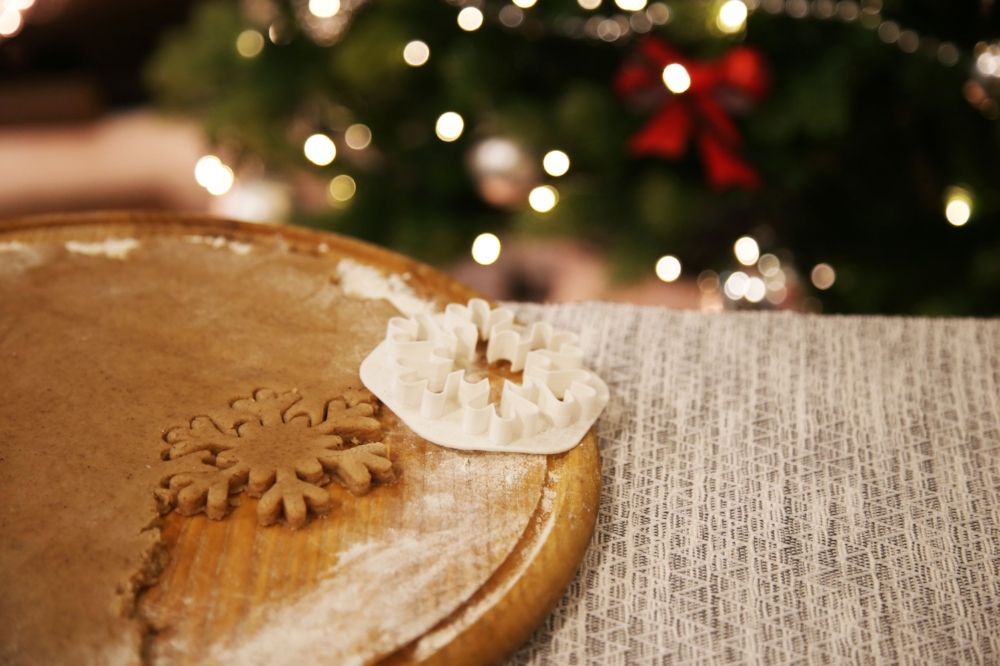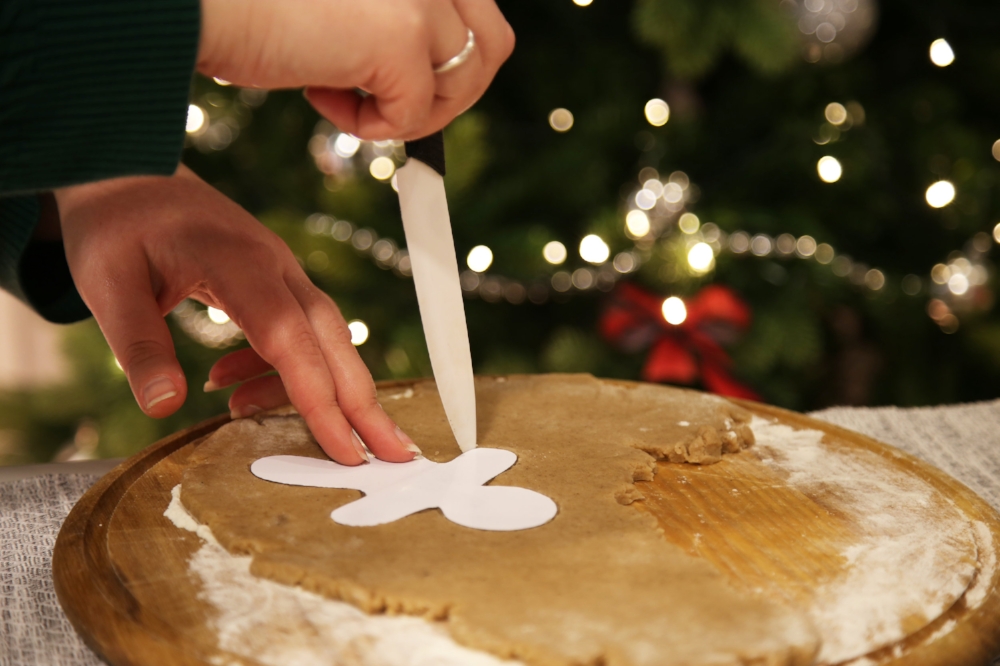 Icing
Option 1
Whisk confectioners' sugar, lemon juice, water and food coloring. Your icing should be like melted chocolate.
Option 2
Whisk confectioners' sugar, lemon juice, and egg white in a medium bowl until smooth.
Transfer icing to a ziplock plastic bag (or a pastry bag). Snip off a bottom corner of the bag and pipe icing onto cookies in a decorative pattern.
Also sharing with you some festive tunes to make the baking process more delightful.